TechEd Developers Tweetup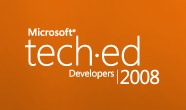 It's time for TechEd 2008. This year the conference has been split into separate weeks for IT Pros and developers. I will be attending the developer edition next week in Orlando. This is my fourth consecutive TechEd conference, and the first I've paid for personally. That's right, this conference is so valuable, I'm willing to pay out of my own pocket to attend.
This will be the first time I've been to a large conference since joining Twitter. Twitter has been a great tool at smaller events for meeting up with people and spontaneously organizing outings to restaurants, bars etc.
Hunter French created a Twitter group on the TechEd Connect site. If you will be attending either week of TechEd, I encourage you to join the Twitter group so other tweeple at the event can keep up with you during the conference.
In the group, I have created a Tweetup (Twitter Meetup) event for Wednesday, June 4 at noon in the dining area. Everyone interested should join us. I'll print up some signage, but if you just look for the people obsessively typing on their phones, you'll find us. Use this link to add the event to your calendar.
Here are the people that I follow on Twitter that are planning on attending TechEd Developers. If you are attending and I didn't list you, please add a comment with your twitter handle.
@wbm @bencarey @jfollas @dcampbell @pandamonial @jmcwherter @mhouston @lespaulrob @aaronlerch @keithelder @arcanecode @gblock @dougt @glengordon @jeffreypalermo @joefeser @ardalis @saraford @darcy_lussier @OdeToCode @MobilityMatters @shanselman @jjulian @careypayette @scottcreynolds @laurelatoreilly
I look forward to meeting the people behind the 48×48 pixel avatars. See you in Orlando!
++Alan